Advisory Board Members' Biographies
Nellie Cournoyea, Board Member since November 2010, Chair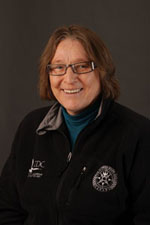 Ms. Cournoyea brings to the Board substantial experience in territorial and regional Aboriginal government, having served in numerous positions connected to social and support programs. During her many years as an elected representative for the riding of Nunakput in the Northwest Territories, she held several ministerial portfolios, including Health and Social Services, culminating with a four-year term as Premier of the territory. She also served as the Chair and Chief Executive Officer of Inuvialuit Regional Corporation, the corporation with the mandate to receive the Inuvialuit lands and financial compensation resulting from the 1984 land claim settlement.
Born and raised on the land, Ms. Cournoyea was educated through the Federal Aklavik Day School and by Alberta correspondence courses.
Gordon Harkness, Board Member since April 2015, Vice-Chair
Gordon Harkness brings to the Advisory Board a vast knowledge and years of experience, along with a keen understanding and appreciation of all aspects of northern retailing, including distribution and transportation.
With the help of a nutritionist and dietitian, he initiated an in-store nutrition program, using the four colours of the Canadian Food Guide to identify healthy food choices.
Mr. Harkness also worked with the government of Saskatchewan to develop and implement a food freight subsidy program for remote communities in the northern part of the province.
Mr. Harkness is familiar with and has visited more than 70 of the communities using the Nutrition North Canada program. Over the course of a year, he spends approximately 100 days in a number of communities across the North.
Kristin Erickson, Board Member since October 2014
Kristin Erickson brings a valuable background in the promotion of healthy living to the Advisory Board of Nutrition North Canada. She gained significant experience in overseeing sports and recreation programs and as a coordinator of the Aboriginal Partnership for Healthy Living throughout the Norman Region off-reserve and urban Aboriginal communities. She also traveled to remote Aboriginal communities to implement this program by Healthy Lifestyle Choices presentations to the schools within the north. Kristin has also worked as a competitive swim coach for 8 years.
Ms. Erickson graduated from the University of Alberta in 2003 with a Bachelor's degree in Physical Education and a Bachelor of Education Degree from University College of the North in 2010. She is from The Pas, Manitoba and is now a resident of Winnipeg, Manitoba, where she has worked as an Aboriginal Student Support teacher.
Jullian MacLean, Board Member since January 2018
Jullian MacLean is currently the Regional Dietician with the Inuvialuit Regional Corporation in Inuvik, NT. For the last five years he has coordinated the Nutrition North Canada Community Education Initiative in the Inuvialuit Settlement Region.
Mr. MacLean was born and raised in Nova Scotia, and moved to Inuvik in 2012. He has a Bachelor Degree in Human Nutrition from St. Francis Xavier University and Masters in Health Administration from the University of British Columbia. He is a registered dietitian with the Nova Scotia Dietetic Association.
His work interests include healthcare, food security and research that leads to long-term sustainable improvements in the health of populations